Blog | 2022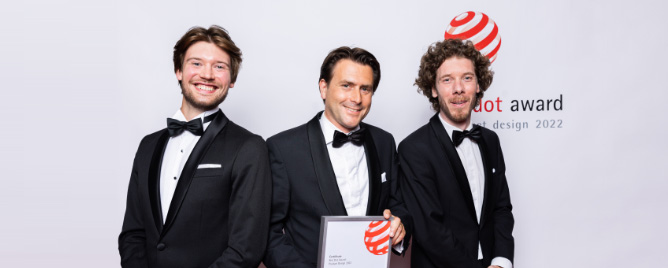 Red Dot Design Award | Product Design Award for Ebusco 3.0
Electrifying!! Celebrations were in place for Ebusco and KesselsGranger DesignWorks at the Red Dot Design Award Gala and Designers' Night in Germany, after receiving the Red Dot Product Design Award 2022 for the design of the lightweight Ebusco 3.0 electric bus. From left to right Coen de Zeeuw (Ebusco), James Granger (KesselsGranger) and Steven Kessels (KesselsGranger).

Statement by the Red Dot Jury, "The Ebusco 3.0's electric drive, batteries mounted in the floor and choice of materials improve its cost efficiency and allow for an attractive design with lots of light and space inside."
Ebusco | Ebusco 3.0 wins Red Dot Design award
The Ebusco 3.0, designed in cooperation with KesselsGranger DesignWorks, has won the pretigious Red Dot award in the Product Design category.

The Red Dot Design Award is one of the world's leading design competitions. The Red Dot Label has become established internationally as one of the most sought-after marks of quality for good design.

All registrations have been assessed by the international jury and the fact that the Ebusco 3.0 has been awarded is something that we feel extremely honoured about.

Ebusco: "thanks to the cooperation with our partner KesselsGranger DesignWorks, who has been with us since the very beginning, we have managed to design this bus to make it stand out from any other."
Categories
Archive