Introduction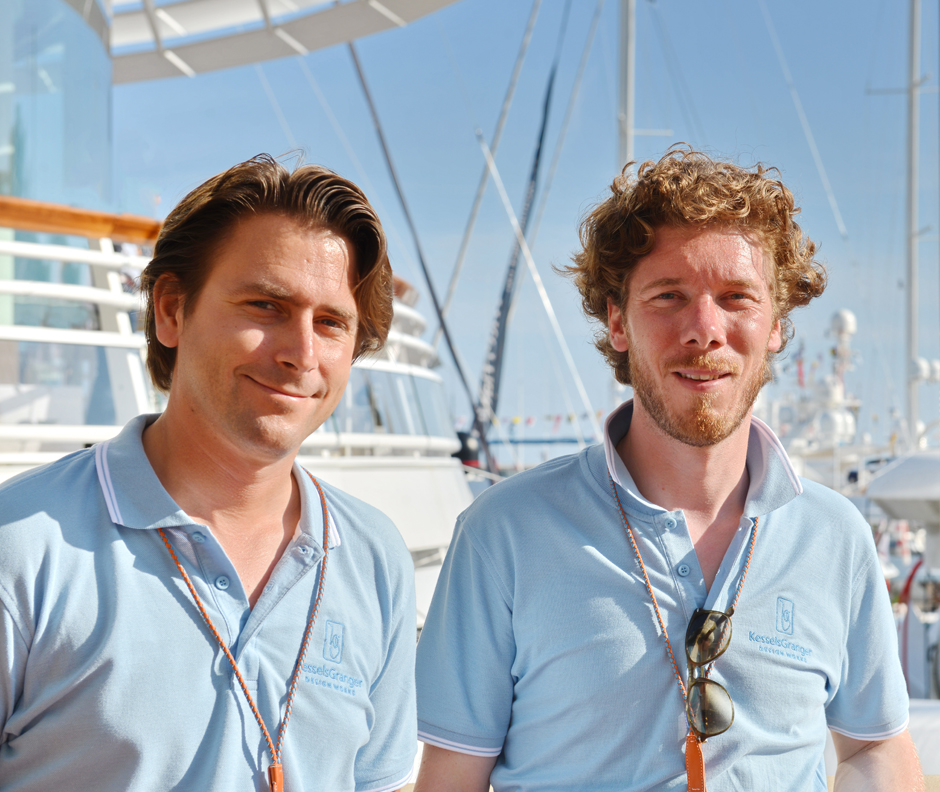 KesselsGranger DesignWorks was founded after Steven Kessels and James Granger graduated from the Design Academy Eindhoven. From a close friendship they developed a successful company with an impressive portfolio.
Their mutual interests in art and design formed the base of a close friendship. Steven Kessels and James Granger have a drive for the design of beautiful products. Designs of KesselsGranger DesignWorks have an emotional value, can be produced cost-effectively and are functional in use.

The goal is to advise and help entrepreneurs in the field of product development and to improve products in order to increase turnover and thereby increase the value of their business. Alongside this, KesselsGranger DesignWorks is strong in the field of graphic design, projects whereby the entrepreneur receives beautiful graphics to support their success stories.

KesselsGranger DesignWorks has developed a broad scale of projects in diverse markets such as automotive, maritime, lifestyle, musical instruments and architecture. KesselsGranger DesignWorks has hereby built up considerable experience in diverse markets. This broad expertise strengthens the aim to think quickly and out-of-the-box in order to generate exceptionally individual ideas.

Alongside product development, which includes the development of new products, the development of a redesign or a makeover, KesselsGranger DesignWorks also creates graphic design, such as the design of logos, brochures and illustrations for presentations. Last but not least, KesselsGranger DesignWorks advises companies and organisations in the area of design strategy to develop practical and innovative solutions that help the entrepreneur to innovate.

Every entrepreneur is welcome at KesselsGranger DesignWorks, from starting entrepreneurs to fully established organisations.

The client is central. With a studio in Belgian Limburg, KesselsGranger DesignWorks is close to the entrepreneur. Success, involvement and continuity result in long-term client relations.

You are welcome to informally get in touch with KesselsGranger DesignWorks. This can be at your location, or at the studio of KesselsGranger DesignWorks at the creative site of C-mine in Genk.
KesselsGranger DesignWorks
Milestones
Products | Automotive
Product design - Aerofin, Peters Koelwagens
Product design - Alfa 159 J4, Autodelta
Product design - Alfa Brera J5, Autodelta
Product design - Alfa Spider J6, Autodelta
Product Design - Mercedes S, Carat Duchatelet
Product Design - Special Vehicles, Akkermans
Product design - Bimetal, Ruote Borrani Milano
Product Design - KG-1 Concept, Royal Tencate
Product design - S-45 Wood, Sirius Trailers
Product design - S-45 Aluminium, Sirius Trailers
Product design - S-45 Polyester, Sirius Trailers
Product design - S-75 Wood, Sirius Trailers
Product design - S-75 Aluminium, Sirius Trailers
Product design - S-75 Polyester, Sirius Trailers
Makeover - Ebusco YTP1, Ebusco
Product design - Ebusco 2.0, Ebusco
Product design - Ebusco 2.1, Ebusco
Product design - Ebusco 2.2, Ebusco

Products | Lifestyle
Product design - Bentley straight, E. Gubbels
Product design - Bentley half bend, E. Gubbels
Product design - Bentley full bend, E. Gubbels
Product design - R&D, E. Gubbels
Product design - iPAL Point, Tivoli Audio

Products | Maritime
Product design - Style to Order, Rondal
Product design - Extender Kamaxitha, Rondal
Product design - Boom Blue Papillon, Rondal
Product design - G/neck Blue Papillon, Rondal
Product design - Boom Sea Eagle, Rondal
Product design - Boom Sybaris, Rondal
Product design - GS 30.0 AC, Linssen Yachts
Product design - GS 30.0 Sedan, Linssen Yachts
Product design - TB18 Trailer Boy, Multi Mover
Makeover - AquaCat, Aqualiner
Makeover - AquaFox, Aqualiner
Makeover - AquaShuttle, Aqualiner
Makeover - Witte de With RR200, Waterbus
Makeover - Piet Hein RR200, Waterbus
Makeover - Devel RR150, Waterbus
Makeover - Wantij RR150, Waterbus
Makeover - Spui RR150, Waterbus
Makeover - Vlij RR150, Waterbus
Makeover - Drechtsteden 1, Waterbus
Makeover - Schie (King's Day), Waterbus

Products | (Outdoor) Furniture
Product design - Conference Table
Product design - Loom chair

Products | Musical instruments
Product design - Alpha 5.0 Marimba, Adams
Product design - Alpha 3.0 Vibraphone, Adams
Product design - Alpha 4.0 Xylophone, Adams
Product design - B. Bacanu Marimba, Adams
Product design - Zeltsman Frame
Product design - Concert Bass Drum, Adams
Product design - Chimes, Adams

Architecture and spatial design
Product design - Signposts, C-mine
Product design - Pollen Indicator, ZAUM
Styling - Shared Facilities, AFB Holding
Styling - EEMC, AFB Holding
Styling - Brewery Remise 56
Styling - showroom, GOPA Keukens
Styling - Villa Maaseik
Styling - Design Hotel
Makeover - Automotive Campus
Makeover - Stations, Waterbus

Graphics
Autodelta, Automotive Campus, Automotive Facilities Brainport, Automotive Industry, AutomotiveNL, Automotive Technology Centre, Pernot Bakery, BBZOB, BMW Group Nederland, Carrosserie Akkermans, DuvedeC Europe, Ebusco, EXMAR Yachting, Fontys Hogeschool Automotive, Helmond Council, Guiding Finance, Holland Car, Locate in Limburg, Province of North Brabant, Rotary Club, Royal Huisman Shipyard, Sirius Trailers, SD Interieur, SME Consulting, Sailer Sittard, Sterkendries Automotive, The Wave Quartet, VanDuppen Furniture, Vici Racing, Vietsan Motor Corp, Vrije Universiteit Brussel, Waterbus

Design strategy
Station vision 2.0 2016, Waterbus
Tender 2013, Waterbus
Tender 2012, Aqualiner
Tender 2009, Waterbus
Members' council, Dutch Design Week
Trade mission Northen Italy, Fier Automotive
Design experts, Innovatie & Design, Euregio
Composites & Textiles (KG-1), Royal Ten Cate
Dutch Design Lounge, AutoRai
City planning, Eindhoven Council
City planning, Mobycon
Style to Order, Rondal
Iedereen Donderdagt, Genk Council
University supervision, TU Delft