Press | Product design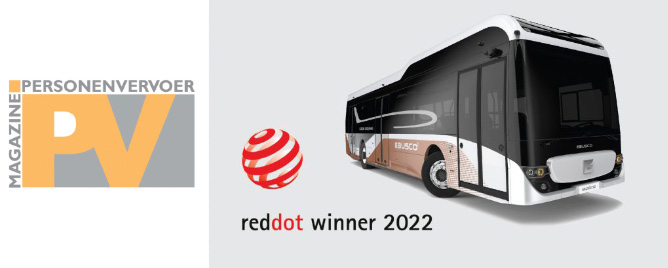 Personenvervoer Magazine | Ebusco 3.0 wins prestigious Red Dot Design Award in the Product Design category
Ebusco has won the Red Dot award in the Product Design category with the Ebusco 3.0. "We are very proud of this prestigious design award. It is, again, a huge recognition for our 3.0 bus," says the bus manufacturer from Deurne.

The Red Dot Design Award is one of the world's largest design competitions. The Red Dot label has become one of the most sought-after labels for good design internationally. All entries are judged by the international jury. "Thanks to the collaboration with partner KesselsGranger DesignWorks, who has worked with Ebusco since the beginning, we have been able to design this bus in such a way that it stands out from all the others."

KesselsGranger DesignWorks was also extremely pleased with the prize: "Receiving the Red Dot Award for the design of the Ebusco 3.0 is a wonderful achievement for all involved. We are honored and proud to work closely with Ebusco, at the forefront of innovation, with a team of specialists in business, design, engineering and manufacturing, to create state-of-the-art mobility that contributes to a better living environment."

The design of the bus is aimed at more comfort with a spacious and luxurious interior and is therefore designed to give drivers and passengers the best possible travel experience. The completely flat floor provides more freedom of movement and the possibility to maximize the window size. This, in combination with an optional panoramic skylight, significantly increases natural light. The body of the bus is made of lightweight composite material. This has many technical advantages, but also has a special effect on the interior of the bus. The composite beams have been left untreated so that the woven carbon fibers can be seen inside the bus.

In addition to comfort, safety also plays a major role in the design of the bus. For that reason, the exterior mirrors have been replaced by cameras to increase the safety and aerodynamics of the bus. The Ebusco 3.0 is not only a feast for the eyes, but also a pleasure to drive. A combination that, according to Ebusco, is crucial within the bus market.

With its advanced lightweight construction, the exterior design called for a pure and unique aesthetic. The shape of the body is determined by the curvature of the carbon fiber spaceframe which, in addition to the increased strength, results in elegantly curvaceous flanks.
Categories
Archive