Press | Product design
Jachtbouw Nederland | The Smallest Linssen
The Grand Sturdy model series from Linssen Yachts in Maasbracht has been extended with a compact steel motor yacht in two versions: the 30.0 AC (with aft cabin) and the 30.0 Sedan (with open cockpit). With a size of 9.70 x 3.35 x 1.00 meters this is the smallest Grand Sturdy that Linssen has brought to the market.

With the small 30.0 AC and Sedan, Linssen Yachts wants to show that space is a relative concept. "Sailing characteristics are not dependent on dimensions, the 30.0 does nothing inferior to the larger yachts from the Grand Sturdy series - everything that makes a Linssen a Linssen is present, despite its length of 'only' 10 meters", according to the Limburg boat builder. The styling and interior for the new 30.0-series have been realised in collaboration with design studio KesselsGranger DesignWorks.

The AC version of the Grand Sturdy 30.0 has a front and aft cabin with a double bed. In the fore cabin is a toilet room, a separate shower room and various cabinets. The aft cabin has a toilet room with washbasin on the starboard side and plenty of spacious cabinets on the port side.

The Sedan version only has a front cabin with sleeping space for two people, various cabinets, a toilet room and separate shower room. With both the AC and the Sedan, thanks to the Easy Sleep Convert System, it is possible to create two extra berths by converting the living room sofa into a double bed.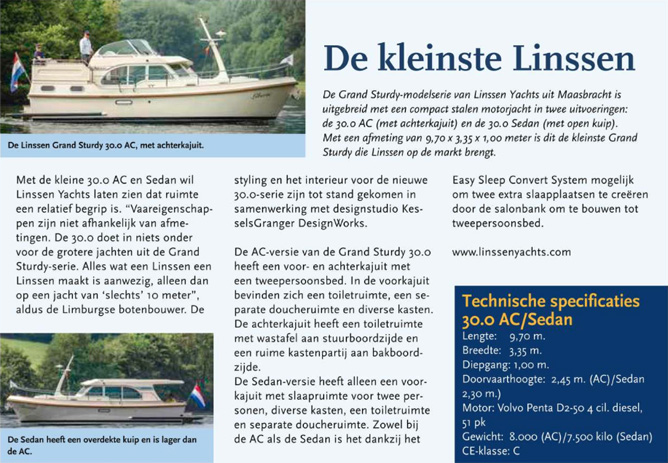 Categories
Archive