Press | Studio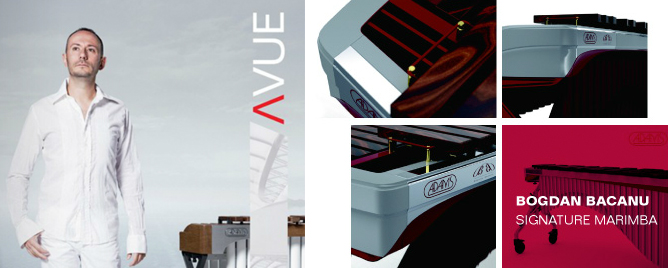 AVUE | Bogdan Bacanu Signature Marimba, Expected in 2015
Adams is currently developing a Bogdan Bacanu signature marimba. This is quite an honor in the words of Bogdan: "Like my colleagues in the Wave Quartet, I consider the people at Adams as my family. In all these years we have built a relationship that goes far beyond my instrument. I really have deep respect for director Frans Swinkels and the guys at the office that I know inside out. By the way, I would like to take advantage of this opportunity to express my gratitude towards Madeleine Levels. Right now, she enjoys a well-deserved retirement and every time I call to Adams, I hear her voice picking up phone. Anyway, I'm incredibly proud that there will be an Adams marimba that bears my name."

For the design of the new marimba, Adams has called again upon the designers of KesselsGranger DesignWorks, to the great satisfaction of the musician. "With the introduction of the Alpha marimba something incredibly special in terms of tuning came on the market. For now, I couldn't possibly wish for anything better. In addition, Steven Kessels and James Granger pushed boundaries in the design of the marimba. With my own model we are going to elaborate on my wishes and style. I really can't wait to enter the stage with this magnificent instrument."

More information about the new Adams Artist Bogdan Bacanu will be forthcoming.
Categories
Archive